Clipperton releases today its paper "The Journey from Venture Capital to Private Equity: A Guide for Tech Startups". This guide aims to assist startup founders and VC firms in optimizing their chances for a successful PE exit. Building on our extensive experience and dialogues within both the VC and PE sectors, this paper delves into the unique challenges and adaptations required, offering insights, strategies, and actionable tools to help you successfully navigate the intricacies of the PE world.
For many years, VC-backed companies had only two main avenues for exiting: either sell to a strategic buyer (M&A), which accounted for 75% of all exits before 2010, or navigate the risky process of an IPO (17% of all exits).
However, the exit landscape for VC-backed startups has undergone a substantial transformation over the past decade; notably thanks to the emerging trend of what we like to call "VC-to-PE deals".
While exits to PE funds made up just 8% of total exits for VC-funded companies between 2006 and 2010, that figure has surged to a whopping 24% for the years 2021 to 2023.
The shift towards PE funds is gaining momentum and reshaping the way tech companies approach exits. This trend is likely to endure, and it has become crucial for both VC firms and Tech entrepreneurs to understand how to successfully prepare their companies for a PE exit.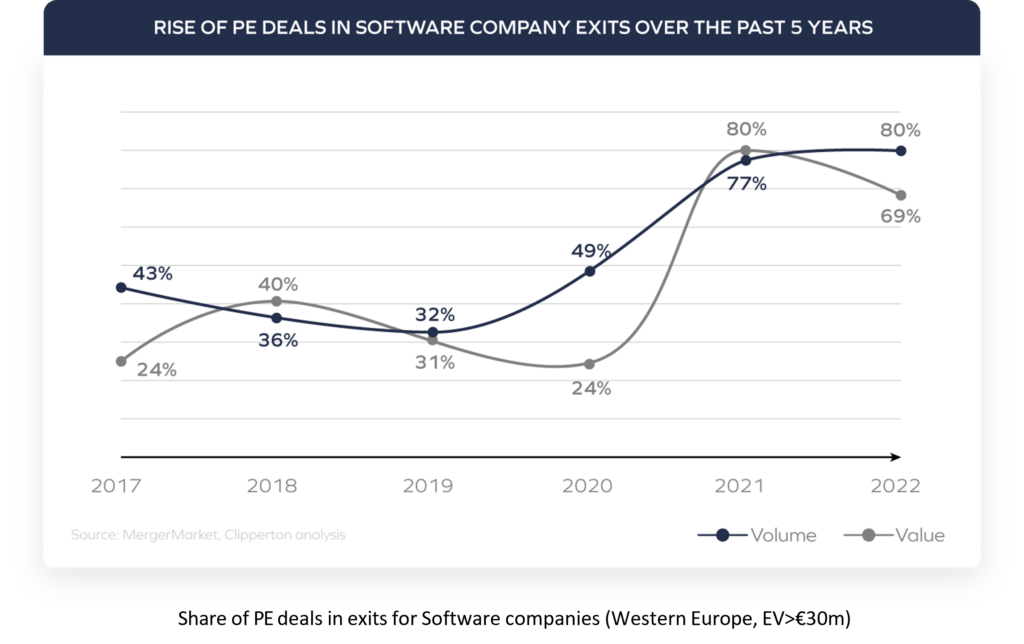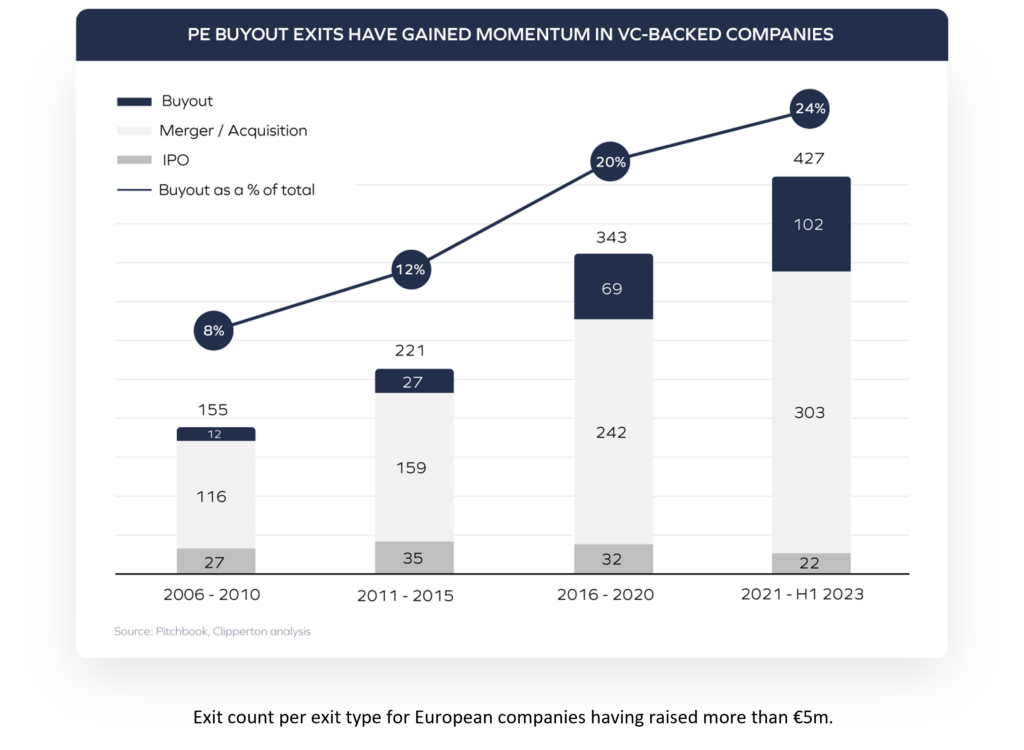 In this paper, the following topics are covered:
An explanation of the genetic makeup that defines the characteristics and preferences of VC and PE investors;
An in-depth examination of how PE exits are becoming a prominent choice for liquidity among companies initially supported by VC;
The highlighting of an innovative approach in PE, the "third way", that offers substantial potential benefits for both entrepreneurs and VC funds;
Cracking the code – a detailed guide that covers strategies for optimizing deal terms, gaining insights into the perspectives of PE investors, and analyzing various company profiles to gauge their prospects in leveraged buyout transactions;
A conclusion with our opinion on the VC-to-PE trend in the upcoming years.
Click on this link and fill in the form to receive the full report by email:
Authors: feel free to reach out to discuss these insights.
Selected Clipperton Tech Buyout Transactions