Clipperton acted as sole financial advisor to AssessFirst, an HR Tech company, on the recent growth investment of CAPZA Growth Tech.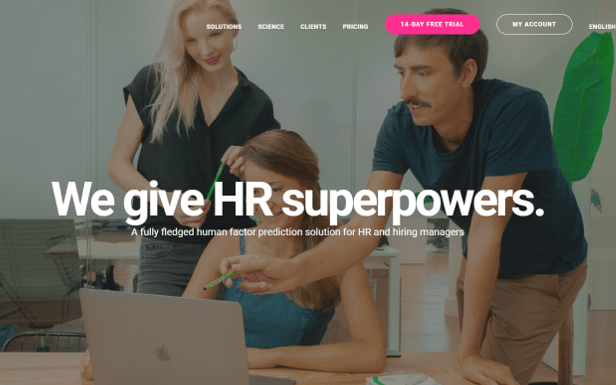 AssessFirst has developed a predictive recruitment SaaS solution allowing companies to predict how well candidates and employees will succeed and thrive in their job on the basis of their abilities, their motivations and their personality.
The solution makes it possible to identify profiles capable of integrating and evolving within a given team, function or environment. The assessment is based on a 30-minute questionnaire developed by scientific experts and based on recognized behavioral science studies.
With the support of CAPZA, AssessFirst ambitions to become the European leader in predictive recruitment and soft skills development.
This transaction underlines Clipperton's extensive expertise in the SaaS sector with as many as 17 deals for SaaS businesses since 2020, advising categories leaders such as:
It is furthermore testament to Clipperton's ability to advise deals in the HR Tech sector, such as the €20m Series B round of Welcome to the Jungle, Foederis (SaaS HR system for Talent Management) and the sale of Vodeclic to Skillsoft [NYSE: SKIL].
Our client
Founded by David Bernard and Alexis Teplitchi, AssessFirst started off as a consulting company and developed into a 100% SaaS model in 2018. The company has developed algorithms based on Artificial Intelligence and Machine Learning, which allows it to process data from several million profiles and automatically generate an evaluation of candidate profiles as well as predictive models.
Driven by the increasing automation of its platform, the company's growth is accelerating rapidly and has enabled AssessFirst to post an annual growth of +40% since its move to SaaS. More than 5 million candidates have been assessed using AssessFirst's models and the company currently employs over 70 people to address the needs of a base regrouping more than 3,500 clients in over 40 countries.
Over a year ago, AssessFirst adopted a 100% remote organization, permanently closing its Paris offices. The entire team now operates from across the entire globe (France, England, Spain, Sweden, United States, etc.).
Deal highlights & rationale
With the support of CAPZA, AssessFirst's ambition is to accelerate the launch of new product features (new interface, modules dedicated to internal mobility and the evaluation of affinity within teams, etc.), and to continue its development in France and Europe, especially through an external growth strategy. Numerous recruitments are also planned, particularly given the near future growth acceleration in the UK.
AssessFirst welcomes CAPZA as a minority shareholder in this transaction. Management retains a majority stake.
This is a new transaction of CAPZA Growth Tech (via Warehousing) which is currently under fundraising.
Deal team & enquiries
Click here for a list of our recent transactions.
About Clipperton                 
Clipperton is a leading investment bank dedicated to technology and growth companies. We provide strategic and financial advisory to entrepreneurs, corporates, and top-tier investors in Europe willing to execute transactions such as strategic M&A, private equity transactions and private placements. Founded in 2003 and with offices in Paris, London, Berlin, Munich, New York and Beijing, Clipperton has completed over 300 M&A and private placement transactions with fast-growing technology start-ups, blue-chip corporates and renowned financial investors.