Clipperton acted as exclusive financial advisor to Astorg on its investment in EcoVadis, a portfolio company of CVC Growth and Partech.
EcoVadis is the world's largest provider of ESG ratings to global supply chains, financial institutions or public organisations to help them monitor and improve the sustainability performance of their business and trading partners.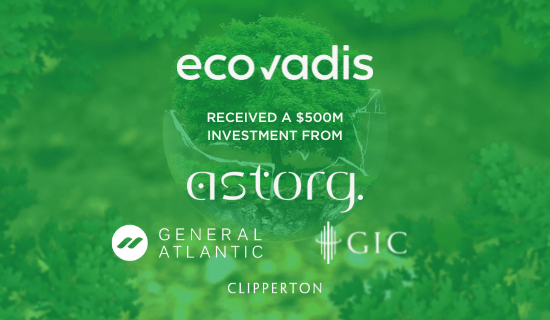 About EcoVadis 
Founded in 2007 by Pierre-François Thaler and Frédéric Trinel, EcoVadis leverages its SaaS platform, together with human overlay, to deliver high-quality ESG ratings to over 650 enterprise clients globally in all industry verticals, to reduce their risk, foster transparency, and drive sustainability improvements
EcoVadis offers its clients efficient linkages to among ca. 55,000 suppliers located in 155 countries
By replacing multiple time-consuming and unreliable 1-to-1 exchanges of unstructured ESG information, EcoVadis revolutionises the way to implement ESG efficiency gains in the industry.
With more than 1000 employees in 13 offices across North America, Europe and Asia, EcoVadis is the global market reference with clients such as Amazon, Microsoft, Atos, Sanof, Johnson and Johnson, Bouygues, Unilever, L'Oréal, Axa, and Citibank.
In 2016, the company received a €30m investment from Partech, followed in early 2020 by a €200m investment from CVC Growth Partners.
Deal Rationale & Process Highlights
The new funds will enable EcoVadis to further strengthen its position as the leading provider of sustainability ratings, intelligence and engagement solutions globally
Nicolas von Bülow and Thomas de Montille, Partners at Clipperton, commented: "We are delighted to have advised Astorg Capital Partners on their investment into EcoVadis. We believe the company could not have chosen better investors to help them continue to build this worldwide category leader. Exceptional investors are joining an exceptional journey."
Clipperton's extensive SaaS track record with PE buyers
This transaction further illustrates Clipperton's unique expertise with SaaS companies, with 15 transactions completed since 2021 – including the $150m investment in Dental Monitoring by Merieux Equity Partners and Vitruvian, Carlyle's $70m investment in Inova Software or the sale of Dutch POS software solution Eijsink to Metro Group in Germany, among many others.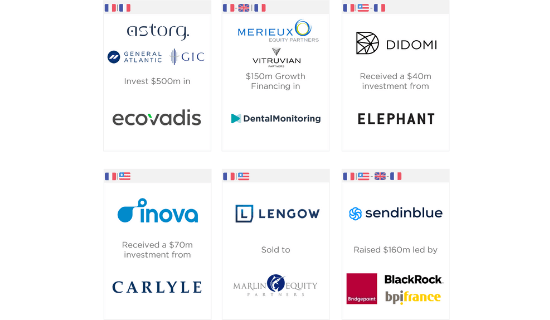 PE buy-side advisory for tech businesses: A high success rate
This deal is testimony to Clipperton's know-how in advising companies on buy-side transactions with 5 transactions completed in the past 9 months – including  Ardian's €330m take-private of Artefact or MBO & CO's growth investment in Praxedo or Merieux Equity Partners' $150M investment in DentalMonitoring, another French unicorn.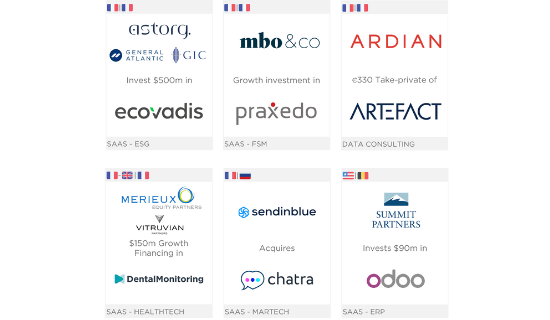 Deal Team
About Clipperton  
Clipperton is a leading investment bank dedicated to technology and growth companies. We provide strategic and financial advisory to entrepreneurs, corporates, and top-tier investors in Europe willing to execute transactions such as strategic M&A, private equity transactions, and private placements. Founded in 2003 and with offices in Paris, Berlin, Munich, London, New York, and Beijing, Clipperton has completed over 350 M&A and private placement transactions with fast-growing technology start-ups, blue-chip corporates, and renowned financial investors.