Clipperton releases today its fifth edition of the DACH Technology Market Monitor. For the third consecutive year, we have taken a systematic look at the financing landscape in the DACH region (Germany, Austria and Switzerland).
Since early 2020, global capital markets experienced periods of growth and contraction. Strong performance in 2020 and 2021 followed a brief Covid-19-induced sell-off. In 2022, both DACH and international index values saw sharp declines, particularly impacting technology stocks as investors favored cash-generating businesses over growth. In 2023, valuations have stabilized, showing initial signs of recovery. Notably, the US tech markets, where the NASDAQ outperformed the S&P 500 by 14% since 2020, while DACH markets appear to be lagging.
Transaction volumes in private markets tell a similar story to public markets, reflecting an investment appetite shifting towards more mature, profitable, and lower-growth companies. Growth financings, typically early-stage investments into rapidly growing, but unprofitable companies, have significantly decreased in both volume and value when compared to H1 2023. Particularly larger rounds (€50 m+), a core feature of the 2021 landscape, have mostly disappeared.
On the other hand, exit activity – typically later-stage, profitable companies – has increased in volume and (disclosed) value, driven by a resurging willingness and ability of both financial and strategic acquirers to acquire tech companies.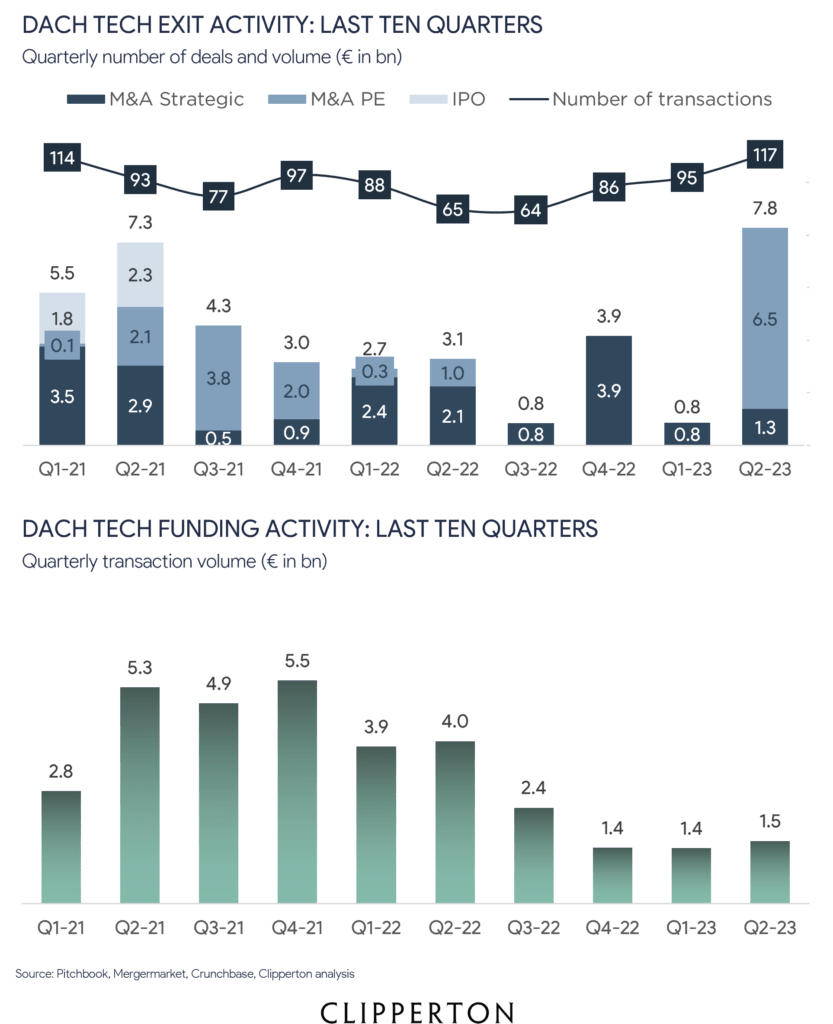 In this fourth edition, the following topics are covered:
Analysis of the financing environment, most funded companies, and most active investors in the DACH region;
Zoom in on current market developments and their impact on valuations, tech growth financing volumes, and M&A;
An update on the exit environment in DACH technology, showing a detailed view of volumes, the sectoral composition of M&A activity as well as the share of buyouts and buy-and-build;
Presentation of three promising companies in DACH technology:

Everphone, a pioneering device-as-a-service (DaaS) provider, set out to simplify the complexities of managing corporate mobile devices;
World Data Lab, a data enterprise that helps revolutionize corporate strategic planning with actionable forecasts on consumer spending and total addressable markets.
Author & team contributions: feel free to reach out to discuss these insights.
Selected Clipperton Transactions