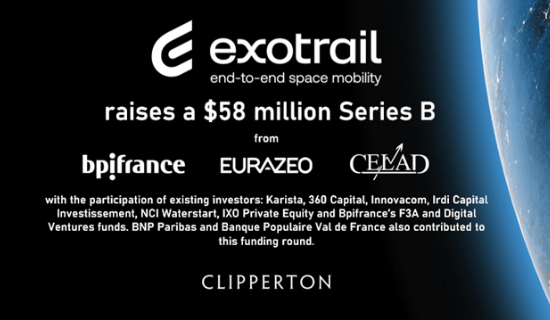 Clipperton acted as sole financial advisor to Exotrail, a fast-growing New Space company pioneering end-to-end space mobility, on its $58 million Series B. Bpifrance (SPI and Defense Innovation Fund), Eurazeo, and CELAD invested in the round, with the participation of historical investors Karista, 360 Capital, Innovacom, Irdi Capital Investissement, NCI Waterstart, IXO Private Equity, and Bpifrance F3A and Digital Venture funds. BNP Paribas and BPCE's Banque Populaire Val de France also contributed to this funding round.

This new fundraising will enable Exotrail to achieve its ambitions to become the category leader for in-orbit servicing by scaling its unique platform of space mobility and logistics solutions. The company intends to capitalize on strong commercial momentum in 2022 for its advanced propulsion systems (space

ware

™

)

and software products (space

studio

™ and space

tower

™) to accelerate further. It will also boost market adoption for its ground-breaking space

drop

™ product announced last year, which has already been selected as part of the France 2030 Space Program.  

Exotrail has been expanding its international presence – with a strong focus on the USA and Asian markets – and is displaying three-digit growth and a contract backlog that was multiplied by three last year.

Exotrail's new $58M Series B round is a landmark transaction in the Space Tech industry globally. It is further evidence of Clipperton's expertise in the New Space segment after the $20m Series B of Preligens (a Security & Defence AI software company). It also highlights the firm's unique know-how in accompanying advanced hardware scale-ups in their financial transactions, as shown by recent transactions successfully concluded for Flyability (CHF 15 million round) and Solem (majority investment from Quilvest).
  Our Client
Exotrail was founded in 2017 by David Henri, Nicolas Heitz, Jean-Luc Maria, and Paul Lascombes. It is the first space company globally to offer a complete and holistic approach to space mobility with products including advanced propulsion systems, modern and intuitive mission design, and satellite operation software, as well as in-space logistics services designed for constellations.

Exotrail empowers operators of satellite and end-to-end mobility, optimizing their deployment, increasing their service performance, and reducing space pollution. Exotrail's mobility

hub

™

allows them to manage space assets better and tackle mobility challenges.

Exotrail has won landmark contracts with space leaders in North America, Europe, and Asia, with a customer base displaying a well-balanced mix of commercial and institutional players across the space value chain. 

With this new round of financing, Exotrail has secured a total of €70 million in funding and counts as one of the most promising European New Space companies.
Deal Rationale
This new funding will enable Exotrail to accelerate the deployment of its mobility

hub

™ by reinforcing its commercial footprint on its current geographies, with a particular focus on the North American market, where the company has already signed landmark contracts.

The company also aims to bolster its R&D capabilities and plans to hire more than 70 people in the next twelve months.

Jean-Luc Maria, co-founder and CEO of Exotrail, stated: "

We are grateful for the trust and confidence all our investors vest in Exotrail. This series B round validates our comprehensive and logistics-driven approach to space mobility. We are now ready to accelerate our efforts in positioning our mobility

hub

™ as the world reference for effectively moving assets in space.

"
Clipperton's track record in New Space and Software-enabled Hardware includes the following transactions: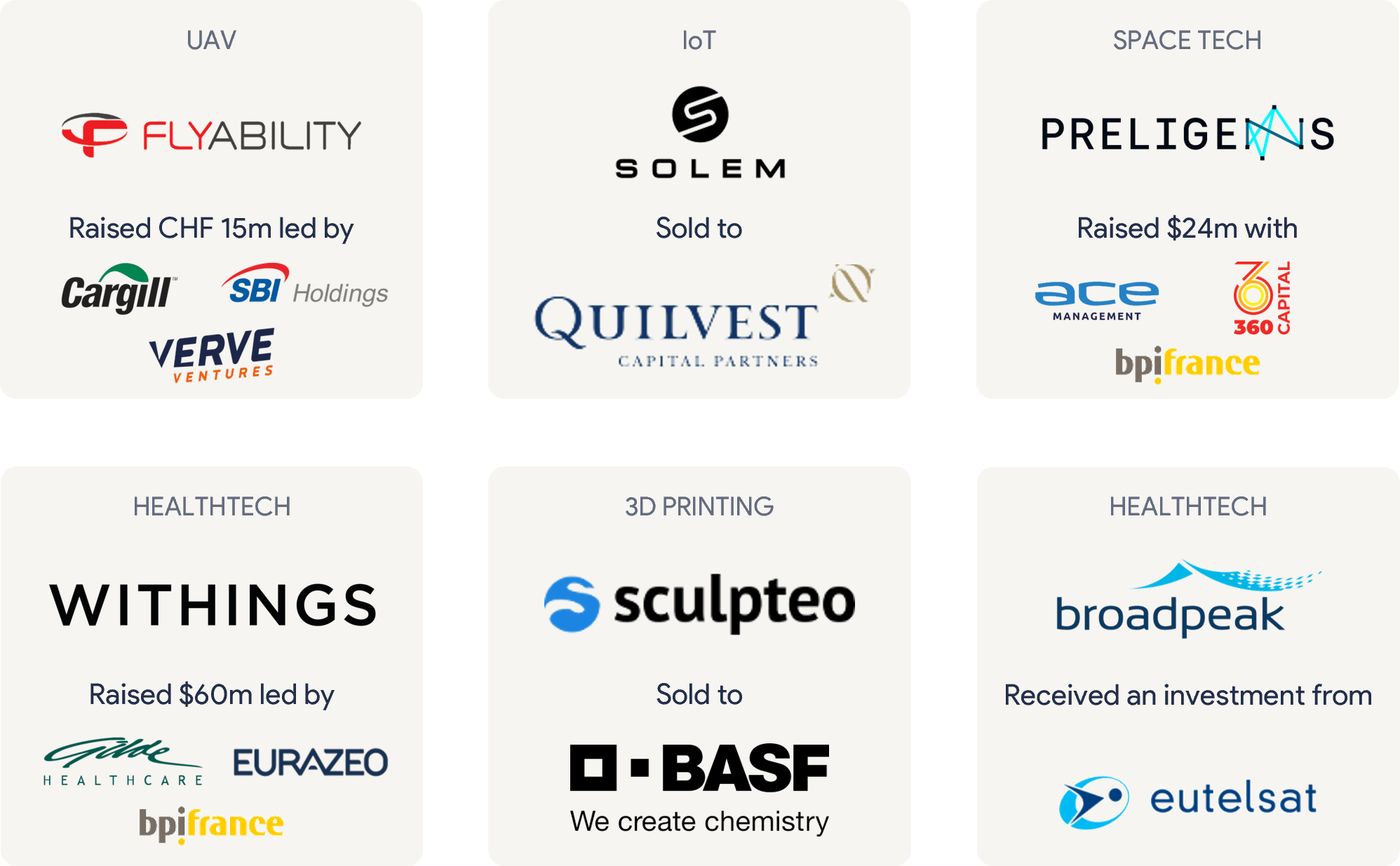 This transaction also evidences Clipperton's know-how in advising category leaders in the making of their acceleration rounds: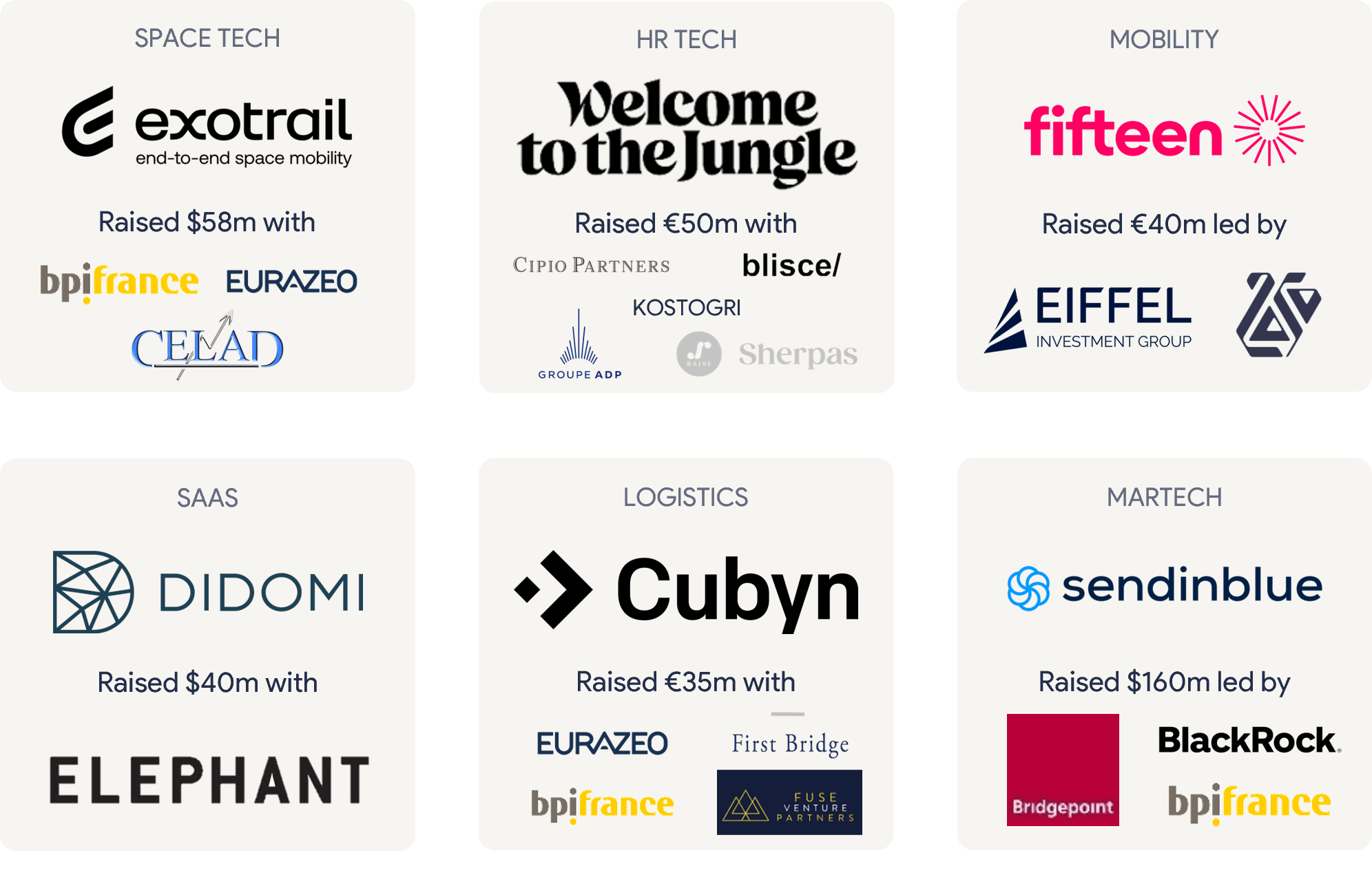 Deal Team
About Clipperton
Clipperton is a leading investment bank dedicated to technology and growth companies. We provide strategic and financial advisory to entrepreneurs, corporates, and top-tier investors in Europe willing to execute transactions such as strategic M&A, private equity transactions, and private placements. Founded in 2003 and with offices in Paris, Berlin, Munich, London, New York, and Beijing, Clipperton has completed over 350 M&A and private placement transactions with fast-growing technology start-ups, blue-chip corporates, and renowned financial investors.