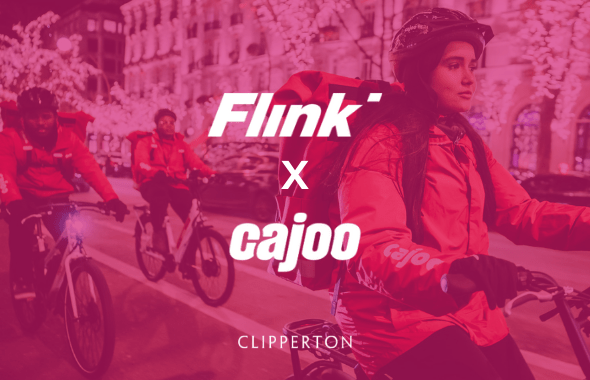 Clipperton acted as exclusive sell-side financial advisor to Cajoo, the French Q-Commerce pioneer, on its sale to Flink, the Berlin-based Q-Commerce unicorn (backed by DoorDash, Prosus, Mubadala, and Target Global).
The acquisition of Cajoo will help Flink boost its national expansion, assortment and customer base in the key French market and further consolidate its leading position in Europe.
 Our Client 
Launched only 14 months ago by Henri Capoul, Guillaume Luscan, and Jérémy Gotteland, Cajoo pioneered the Q-Commerce boom in France.
Cajoo is transforming everyday groceries with a full-stack model, offering a wide & highly-curated range of products delivered at home within 15-min click to door.
Cajoo has built robust tech assets internally to operate, monitor, and scale the business at a rapid pace. The company quickly secured a leadership position in France despite the longstanding presence of heavily financed competitors.
In August 2021, Cajoo tied a partnership with global retailer Carrefour which has provided a solid & unfair advantage to streamline operations and scale across the country.
Cajoo x Flink: Deal Rationale
Cajoo and Flink share the common mission of modernizing everyday shopping, dramatically improving the customer experience with a playful, comprehensive, and efficient digital offer.
France being a highly coveted market opportunity for Q-Commerce players, the acquisition of Cajoo will help Flink build a robust position in the country.
This strategic alliance will unlock strong growth prospects for Flink, leveraging Cajoo's proprietary assets, including a robust tech platform, an extended customer base, and the highly strategic partnership with Carrefour.
Carrefour, early investor and exclusive retail partner of Cajoo, will become the exclusive partner for the French market for Flink and a direct shareholder in the company.
Clipperton's Digital Food & Grocery Expertise
This transaction confirms the longstanding expertise of Clipperton in the broad digital food & grocery segment.

Back in 2020 and before the emergence of European Q-Commerce players, Clipperton wrote an extensive piece of research on the digitization of grocery shopping in Europe. Click here to download this whitepaper.
Clipperton's German cross-border track record
This deal marks the 7th transaction in Germany since 2021 with international counterparts advised by Clipperton. It is a further testament to Clipperton's growing leadership position on the German tech scene with two offices in Germany (Berlin and Munich).

 Deal Team
About Clipperton  
Clipperton is a leading investment bank dedicated to technology and growth companies. We provide strategic and financial advisory to entrepreneurs, corporates, and top-tier investors in Europe willing to execute transactions such as strategic M&A, private equity transactions, and private placements. Founded in 2003 and with offices in Paris, Berlin, Munich, London, New York, and Beijing, Clipperton has completed over 350 M&A and private placement transactions with fast-growing technology start-ups, blue-chip corporates, and renowned financial investors.