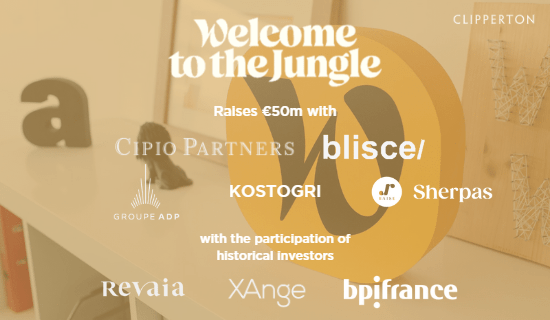 Clipperton acted as sole financial advisor to Welcome to the Jungle, France's major SaaS player in the employer branding and recruitment space, on a €50m fundraising with Blisce, Cipio Partners, Groupe ADP, Kostogri and RAISE Sherpas, backed by historical investors Revaia, XAnge and Bpifrance (via its Digital Ventures fund).
This new funding will enable Welcome to the Jungle to ramp up its employer branding solutions in France and expand globally, with a specific focus on the USA.
This deal is testament to Clipperton's ability to build long-term relationships with its clients – having advised Welcome to the Jungle in 2019 on it

s

€20m financing round led by Gaia Capital Partners

and in 2017 on its

series A financing round led by XAnge

. 
Our client
Founded in 2015 by Jérémy Clédat and Bertrand Uzeel, Welcome to the Jungle has built a unique employer branding and hiring SaaS solution and has become a reference platform in France.
Welcome to the Jungle provides businesses with solutions that make their employer brand visible and attractive to job hunters, as well as with tools that make the hiring experience exciting and seamless.
With over 300 employees, they address a broad range of +5,000 companies, from tech start-ups building awareness for their next key hires to large corporates that need to communicate to the new worker generation.
Deal Rationale
This Series C funding round sees the company renew its partnership with three renowned players (Revaia, XAnge and Bpifrance, via its Digital Ventures fund), and gain the trust of five new investors with complementary profiles, whose values match those of Welcome to the Jungle: German-based Cipio Partners, Blisce, Groupe ADP (Aéroports de Paris), Kostogri, and RAISE Sherpas via its philanthropic vehicle, Phiture.
Welcome to the Jungle's ambition is to reinvent the way companies build their employer brand and become a global leader in HR tech: the company will use this new funding to launch in new geographies, with a specific focus on the US. The company will thus enrich its offering with new features, localize its solution for the American market and recruit new talent to support its growth.
Jérémy Clédat, co-founder and CEO of Welcome to the Jungle commented: "We're thrilled about achieving this fundraising and earning the trust of both our legacy and new investors. This third funding round is a triumphant way to end 2022, a year where we launched a new sales offer and our latest features, reached nearly 3 million unique monthly visitors, brought in over 100 new hires, and reached a milestone of 5,000 customers and €30 million in ARR. Now more than ever, we have what it takes to keep revolutionizing the staffing sector and start a new chapter in Welcome to the Jungle's history."
Clipperton's long-term partnership with Welcome to the Jungle and its solid track record in HR tech
Clipperton has been working with Welcome to the Jungle since 2017. First, by organizing the company's first institutional round (€7m series A with XAnge, Bpifrance, and Kima Ventures), and two years later its €20m series B with Revaia (formerly Gaia Capital Partners).

This deal is testimony to Clipperton's track record in advising HR tech companies – including Foederis Group's sale to Septeo, AssessFirst's growth investment from Capza Growth Tech or Vodeclic's sale to Skillsoft. 

Deal Team
Read the press release in French.
About Clipperton
Clipperton is a leading investment bank dedicated to technology and growth companies. We provide strategic and financial advisory to entrepreneurs, corporates, and top-tier investors in Europe willing to execute transactions such as strategic M&A, private equity transactions, and private placements. Founded in 2003 and with offices in Paris, Berlin, Munich, London, New York, and Beijing, Clipperton has completed over 350 M&A and private placement transactions with fast-growing technology start-ups, blue-chip corporates, and renowned financial investors.